Thermo Shred At a Glance
Thermo Shred is a fat burning supplement manufactured by Outten Fit Nutrition. Its overall effectiveness rating is a 1.84 out of 3 meaning that some, but not all, of the ingredients in this product have evidence of providing positive results. This product is a mix of high and low quality ingredients that should lead to some benefits.
Product Name: Thermo Shred
Manufacturer: Outten Fit Nutrition
Supplement Category: Fat Burning Supplements
Ranking within all Supplements: 194 out of 400 (middle third of all products)
Ranking within Fat Burning Supplements: 21 out of 41 (middle third within category)
Number of Ingredients: 9
Effectiveness Rating: 1.84 out of 3
Amount of Research Rating: 34.500 (above 60 indicates sufficient research)
Nutrition Label Transparency Score: 100%
Serving Size: 2 capsules
Thermo Shred Overview
Effectiveness Rating: Thermo Shred contains 9 ingredients. Out of those, 8 are included in The Supplement Database. Their effectiveness ratings have been combined to give an overall effectiveness rating for the entire product. Thermo Shred's overall effectiveness rating is a 1.84 out of 3.
This rating means that some, but not all, of the ingredients in this product have evidence of providing positive results. This product is a mix of high and low quality ingredients that should lead to some positive results.
Amount of Research Rating: This rating is a measure of how much research has been conducted on a product's ingredient lineup. A product can have a very high effectiveness rating but have a very low amount of research to back up that high rating.
Ideally, you should find products that only include ingredients that have been thoroughly researched. Amount of research ratings above 60 is sufficient, above 80 is much better. A rating lower than 60 means the ingredients in a product have not been thoroughly researched and the manufacturer does not have a great reason to use the ingredients they used.
The amount of research rating (confidence rating) for Thermo Shred is 34.500.
Effective vs Ineffective Ingredients: The graph below illustrates the makeup of Thermo Shred's ingredients. Green represents effective ingredients, yellow represents moderately effective ingredients, red represents ineffective ingredients. The more green and yellow, the better.
This product contains 1 extremely effective ingredients, 5 moderately effective ingredients, 2 ineffective ingredients, and 1 ungraded ingredients. Ingredients that are not found in the supplement database are ungraded and are not factored into the overall effectiveness rating for the product. The ungraded ingredients are listed below.
What is Thermo Shred good at?
Thermo Shred is extremely effective at:
increase weight loss
increase alertness
improve running performance
decrease calorie intake
improve sports performance
suppress appetite
improve recovery
Thermo Shred is moderately effective at:
decrease body fat
lower blood pressure
improve cognitive ability
increase fat burning
improve cardiovascular endurance
improve sprint performance
improve mood
improve memory
increase satiety
reduce muscle damage
improve cycling performance
improve cycling sprint performance
improve muscular endurance
increase strength
increase energy expenditure
Thermo Shred is ineffective at:
decrease fatigue
improve insulin sensitivity
improve agility
reduce muscle soreness
Individual Ingredient Ratings
The table below lists the rated ingredients included in Thermo Shred along with their effectiveness ratings. Click the ingredient for more information on what it is and isn't capable of.
Ingredients not included in this analysis. The following Thermo Shred ingredients are not in the Supplement Database. These ingredients' effectiveness was not taken into consideration in the overall effectiveness rating for the product: Garcinia Cambogia Extract.
Nutrition Label and Ingredient Transparency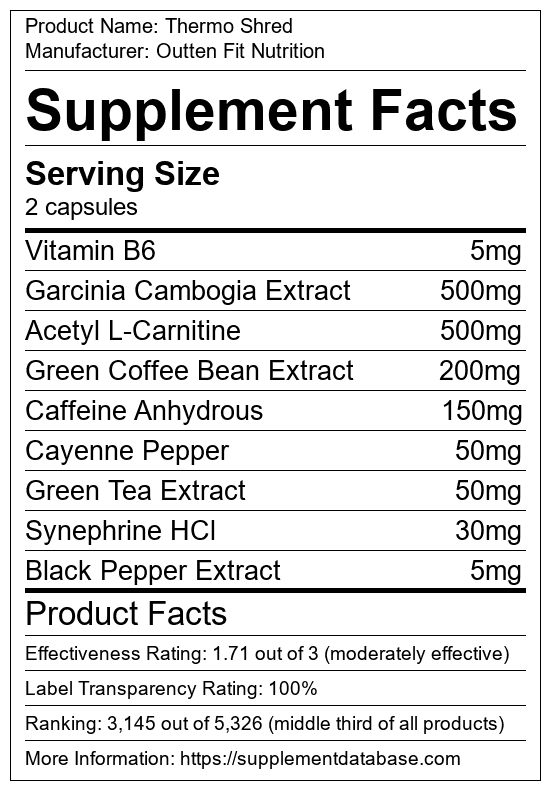 Thermo Shred lists the amount of 100% of its ingredients. It contains 9 ingredients. Out of those, 9 are listed with amounts while 0 are listed without amounts. The chart below illustrates how many ingredients in Thermo Shred are listed with amounts. Green represents ingredients with amounts while red represents ingredients without amounts. The more green, the better.
Many supplement manufacturers hide the amount of a certain ingredient under the guise of a great sounding proprietary blend such as "Maximum Muscular Size Enhancer" or "Anabolic Cell Strength Matrix."
The amount of each individual ingredient included is hidden from the label making it impossible to know what's actually in the product you're using. Companies have the ability to mix costly and effective ingredients with cheap and ineffective ingredients making it difficult to tell which one is actually in a product.
Products with high percentages of ingredients without amounts are hiding the true nature of their effectiveness. Ideally, a product should list amounts of 100% of the ingredients they are using.
Thermo Shred vs the Compeitition
Thermo Shred ranks 21 out of 41 in the Fat Burning Supplements category. The table below lists the top five supplements within the category. Click on a link below for an in-depth comparison between the two products.
The Bottom Line
The Effectiveness Rating describes how well Thermo Shred works based on the individual supplements it contains. The Ingredient Rating describes how many of the ingredients are rated as effective or moderately effective. The Nutrition Label Transparency describes the percentage of ingredients listed with amounts on the nutrition label.
Nutrition Label Transparency